Birthday Invites for your child is probably the most important aspect of his/her special day. And you want to make sure the invitations are just perfect. You don't want to spend hours crafting them by hand, but you also want them to be unique and special. With a little help from technology, you can easily create beautiful, one-of-a-kind invitations that will get your guests excited for the big day – without all the stress.
What information to include in the invite
The most important thing to include in a birthday invite for your child is the date, time and location of the party. It is also important to include a RSVP date so that you can get an accurate head count for the event. You may also want to include a theme for the party, if there is one, as well as any special instructions such as what to wear or bring.
What design or theme to use for the invite
There are a few things to consider when choosing a design or theme for your child's birthday invite. The first is what your child is interested in. If they love animals, you could use a zoo or safari theme. If they're into outer space, go with a rocket ship or aliens design. You can also base the invite off of a favorite book or movie. Other ideas include using bright colors and patterns, incorporating fun shapes, or keeping it simple with a classic birthday cake design.
Once you've decided on a general direction, it's time to start thinking about the details. What colors will you use? What kind of font will you choose? Will you include any photos? Once you have all the details worked out, you can start putting together your perfect birthday invite for your child.
Where to order invitations
There are many places to order invitations for your child's birthday party. Some popular options include online stores, party supply stores, and print shops. The one we highly recommend is www.invitekaro.com. Head over to their store specially for Birthday invites at https://www.invitekaro.com/product-category/invitekaro-app-invites/birthday/. Some themes for birthday invite are noted below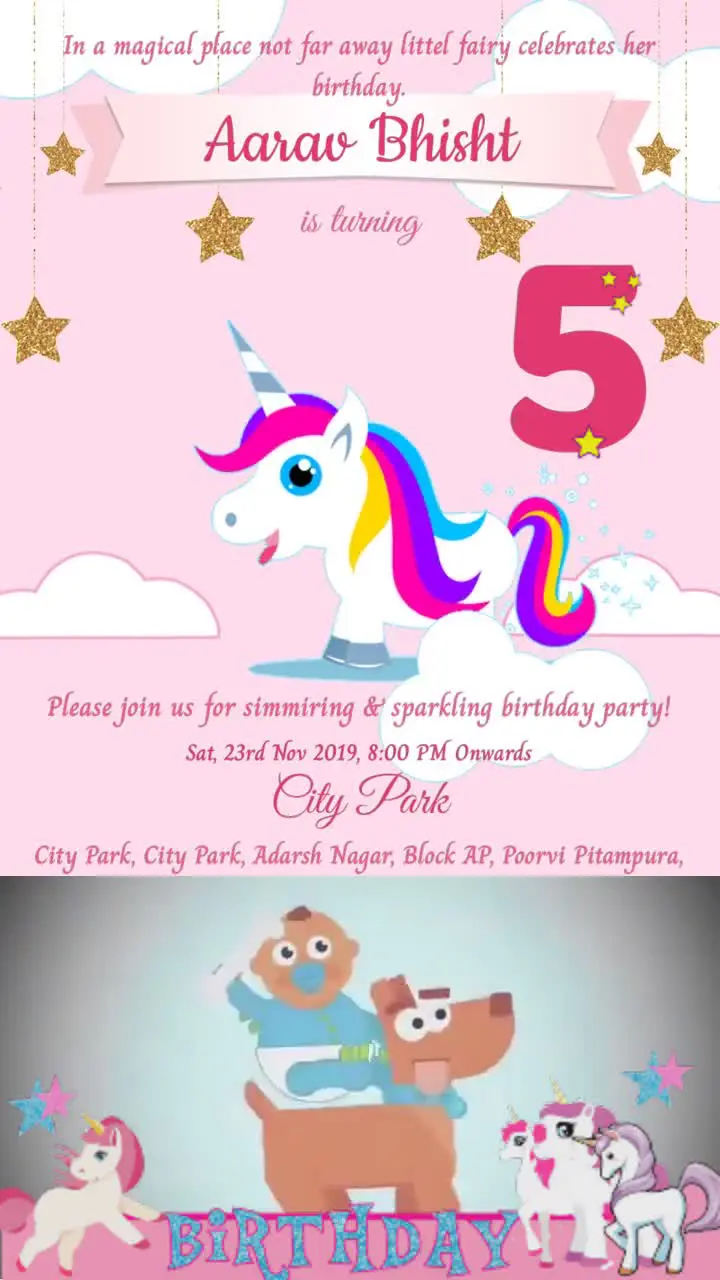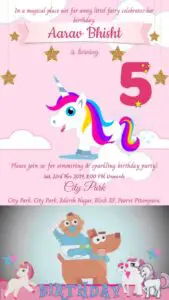 How to make your own invitations using Invitekaro App
Making your own invitations can be a fun and creative way to celebrate your child's birthday. Here are some tips on how to make the perfect birthday invite for your little one:
1. Choose a theme: Pick a birthday party theme that your child will love. This will help you decide on the overall look and feel of the invitations.
2. personalize it: Add a personal touch to the invitations by including your child's name, photo, or a special message.
3. Be creative: Get creative with the design and layout of the invitations. Use fun colors and patterns to make them stand out.
4. Include all the details: Make sure to include all the important information such as the date, time, and location of the party.
5. Send them out early: Send out the invitations a few weeks in advance so that everyone has plenty of time to RSVP.
Tips for a successful birthday party
No matter what age your child is, a birthday is always a special occasion. Whether you're planning a small gathering with close family and friends or a big bash with everyone you know, there are a few key things to keep in mind to make sure the day is perfect.
First, pick a theme. This will help you plan the decorations, food, and activities. It's also important to consider your child's interests when choosing a theme. If they love animals, for example, you could have an animal-themed party.
Next, send out invitations in plenty of time. This will give guests plenty of notice so they can clear their schedules and make sure they can attend. Be sure to include all the important details like the date, time, and location of the party.
Finally, don't forget the little touches that will make the day extra special for your child. Balloons, streamers, and banners are always nice, and you could even hire a clown or face painter to entertain the kids. Whatever you do, just make sure your child has a birthday they'll never forget!
Conclusion
Inviting friends and family to your child's birthday party is a big responsibility, but it doesn't have to be difficult. With a little planning and creativity, you can create the perfect birthday invitation for your child's special day. Use our tips and ideas to get started, and don't forget to have fun with it! Additionally, if you want, you can always gift Talking Jerry the app to your child on his/her birthday 😀