Intro
My name is Arpit, and I am a wannabe gamer, a novice drummer, and an entrepreneur. It seems that covid is finally behind us. While it was as strenuous as it was for individuals and collective, it did provide opportunities. Personally, it was going back to playing games. Mobile gaming options were the most accessible and logical at the time.
Hence, I want to share my mobile gaming research while playing one of the most popular games in the world, Call Of Duty Mobile. I shall be writing 4 different posts/ articles describing my learning and journey.
A gaming behemoth, and its experiment
According to an official Activision statement, the Call of Duty franchise has generated $30B in revenue over the course of its lifetime. This is why Microsoft is willing to pay a premium for it. It seems to be worth it.
As a gamer, the story and history of Activision and Blizzard, which later merged to become Activision Blizzard, is fascinating. As much as I would be delighted to talk about it, this article is probably not the place,
Prior to the acquisition of Kings and Candy Crush for $5.9B, Activision did not have any serious presence on the Mobile platform. But boy, did that Change with the release of Call of Duty Mobile
According to many murmurs and insider scoops, Activision wasn't exactly convinced about Mobile Gaming. That was one of the main reasons to partner with Tencent for Game Development.
The rest, as they say, is history.
The game has generated over $1.5 Billion of revenue from its release. It's important to remember that this is just an estimate from third-party analytics tools.
CODM has partnerships with various companies that allow gamers to purchase in-game currency. (e.g., Codashop ). These 3rd party suppliers can't be accounted for.
The COVID Lockdowns have been great for Mobile Games and the mobile gaming industry. The growth has been unprecedented. Every major AAA studio has announced a Mobile release. Mobile gaming was already successful; we are about to see that success increase manifold.
Some of the games which are announced and planned for release on the Mobile platform are. Apex Legends & Call of Duty Warzone are already mobile gaming ready!
WarZone

Volarant Mobile
An overview of my experience with gaming and Call of Duty Mobile
A game is an opportunity to focus our energy, with relentless optimism, at something we're good at (or getting better at) and enjoy. In other words, gameplay is the direct emotional opposite of depression.

Jane McGonigal
COVID, like for so many people out there, couldn't have come at a worse time. I had just launched a new venture ( invitekaro ). In a geography dominated by Amazon & Flipkart, we were selling Digital Goods worth ₹ 4000 from our App.
It was an exception, as 53% of our purchasers were women. We were truly flying. And then, there was this unexpected and unfortunate hard stop. That's when I found refuge in games; after almost a decade.
I was Alice, going down the rabbit hole, experiencing first-hand how far along mobile gaming has come.
I not only played the game; I became semi-pro. I participated in the CODM world championship, and we reached the Last 32 in Stage 3. Being in the top 500 players around the globe is a flex like no other, especially at my age
My IGN ( In game name ) is MaiTrivediHun, inspired by you know who. I am also known as the famous "uncle" of CODM in India.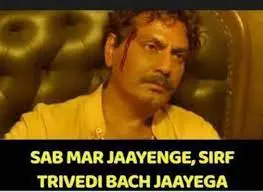 Now that we are talking about my time with the Championship team and the friends I made during that time, I need to introduce them ( calling them "friends" is a privilege, considering they are almost half my age )
Leader of the pack in the game and our Objective player. He recently completed his masters in AI/ML algorithms and is working in a company doing the same.
Our Main Sniper (couldn't snipe if his life depended on it ). He moved to Canada recently, where he is completing his Master's.
Our entry fragger, who won many games for us single-handedly. ".glitch" is pursuing Master's from UCLA.
Ironically, nothing like his name. He was our stats guru. Every gun, every attachment, every perk, he knew it all. Currently working as a software engineer, he has created a brand for himself. His tribe goes by the name of Stats on Duty.
Our Slayer was supposed to be one of the 1st ones to get into the action. He worked for Hotstar's content team and built quite an audience for himself on IG. Somehow, contrary to his role, he would inevitably be the last man standing.
Our supposed-to-be sniper never came off to the reserve bench. He is preparing for his civil services exams. Mobile gaming has been his only exposure to digital games.
Our manager. He arranged our practice games, recorded our sessions, and coordinated all the pieces. He is 15 years old. He was our manager because he was persistent, like any other 15-year-old. No was not an option for him. As with Mamba, his only exposure to gaming has been mobile gaming.
I don't know why people are so keen to put the details of their private life in public; they forget that invisibility is a superpower.

Banksy
As you would have already noticed, all the names I mentioned above are IGNs / Pseudo Identities. Not that any of my team members had any problem with revealing their identities, but Anonymity within games and the gaming community is a fascinating topic. I shall write a blog about it soon enough.
Growth hack, without trying!
We know a bit more about my team, but how did we get here? We all have varied backgrounds, and still, we managed to come together, create a bond, and form a team. Let me try explaining the process through an image.
April 2020, early evening, I hopped into a ranked lobby (mobile gaming to the rescue 😎). I had reached Master 4 and needed 700 more points to get to legendary. In ranked, I was presented with a match on Domination on the Standoff map. I, along with random teammates, was killing it.
The victory was inevitable, and that's when two boys activated their mic to let random teammates know how good we all were. Those boys were Overachiever and Kreed. Next thing, they were talking about their love for FC Barcelona. As a long time 'Culé, I had to get involved. We immediately got onto Discord, and these were the first two photos I shared with them.
The real journey of growth and engagement starts once you find like-minded people.
journey
    title Growth & Engagement
    section Discord
      Create Private Groups: 5: Me, In Game Friends
      Join Public Servers: 3: Me
    section Whatsapp
      Create Groups: 5: Me, In Game Friends
We will cover Discord/ Youtube/ Instagram and their roles in details, when we get to "Potential Opportunities in the ever growing gaming world" post and section. However, let me quickly get into why discord works, and works great for gamers and mobile gaming.
As you would have noticed by now, gamers tend to be anonymous (this holds true for mobile gaming users and console/pc gamers). They prefer being known for their IGN vs Real Name. Discord understands this exceptionally well.
Gamers usually use their IGN to sign-up and use that as their username.
It is probably the only main-steam "Chat" App that doesn't have read receipts in any shape/ way or form.
Made for Gamers, soooo EZ
Discord is made for gamers. Although there are different use cases, those are edge cases as far as adoption is concerned.
Gamers can have more than 1 username. If their IGN is different in different games, and they are subscribing to a channel/ server/ group of that particular game, they can ( and do ) change their username to reflect the same.
When the general practice is to have a username the same as IGN, flow from the game to Discord is easy. No need to share a phone number. You need to just search for the username you were playing with in-game.
Feeling over Features, Oh the Feels!!!
Once you create a Discord Server that drives traffic, managing it becomes a game. My teammate Doomsday has successfully created a vibrant Discord Server.
He looks for volunteers to create mobile gaming-specific content and, more importantly, act as "moderators."

There are 250 roles in Discord. Those roles can be any permutation of 29 permissions discord provides. The moderators are assigned roles.

These "moderators" are typically aged between 14-17 years. They do it because it makes them feel they belong. A feeling that they have made it.
Conclusion, for now
The devil is in the details
And this brings up a conclusion for this topic. Mobile gaming has grown exponentially, and there is still massive scope. Not just to build games, but with the knowledge of how games work, you can create some fascinating products. In the next Chapter, I intend to tell you more with specifics.